Claygate Community Swimming Pool
Update!
Many of you will be aware that 12 months ago, the swimming pool was in need of costly repairs which the school could not afford to address. The choice was between closing the pool and busing children to other pools, or to look for wider funding options that were significantly greater than those that could be raised by the PA. Following the financial commitments of parents, the community, Elmbridge Borough Council, the Parish Council and the London Marathon Fund, we are pleased to say that we have been able to move forward with Phase 1 of the project.
With the benefit of this substantial level of external funding, we will be able to provide a high quality facility that no other school in the area will be able to offer. The design of the pool will be sustainable and cheaper to run and enable the children to use the pool all the year round. Importantly, it will also offer the school an additional income from people who have demonstrated a desire to use the facility outside of school hours, thus directly benefiting the children at the school.
Despite experiencing some significant delays in the delivery of key materials, all the foundations have now been laid. When the steelwork gets delivered, erection can get underway and you will be able to see the project taking shape. We continue to anticipate that the pool will be available again for the children in the summer.
Fundraising for Phase two continues and alongside all the hard work of the PA and the community we are still having positive communications with Your Fund Surrey for the outstanding sums. In parallel with this, we continue to look at ways to make the pool as environmentally friendly as we can and a number of green measures are already being incorporated. Providing a renewable source of energy to heat the pool is complex and challenging, but in conjunction with Surrey, we have commissioned a heat pump feasibility study and await their report.
We will keep you updated on progress.
In the meantime, the two photographs below show the area for the changing rooms levelled and also with the main drain run laid.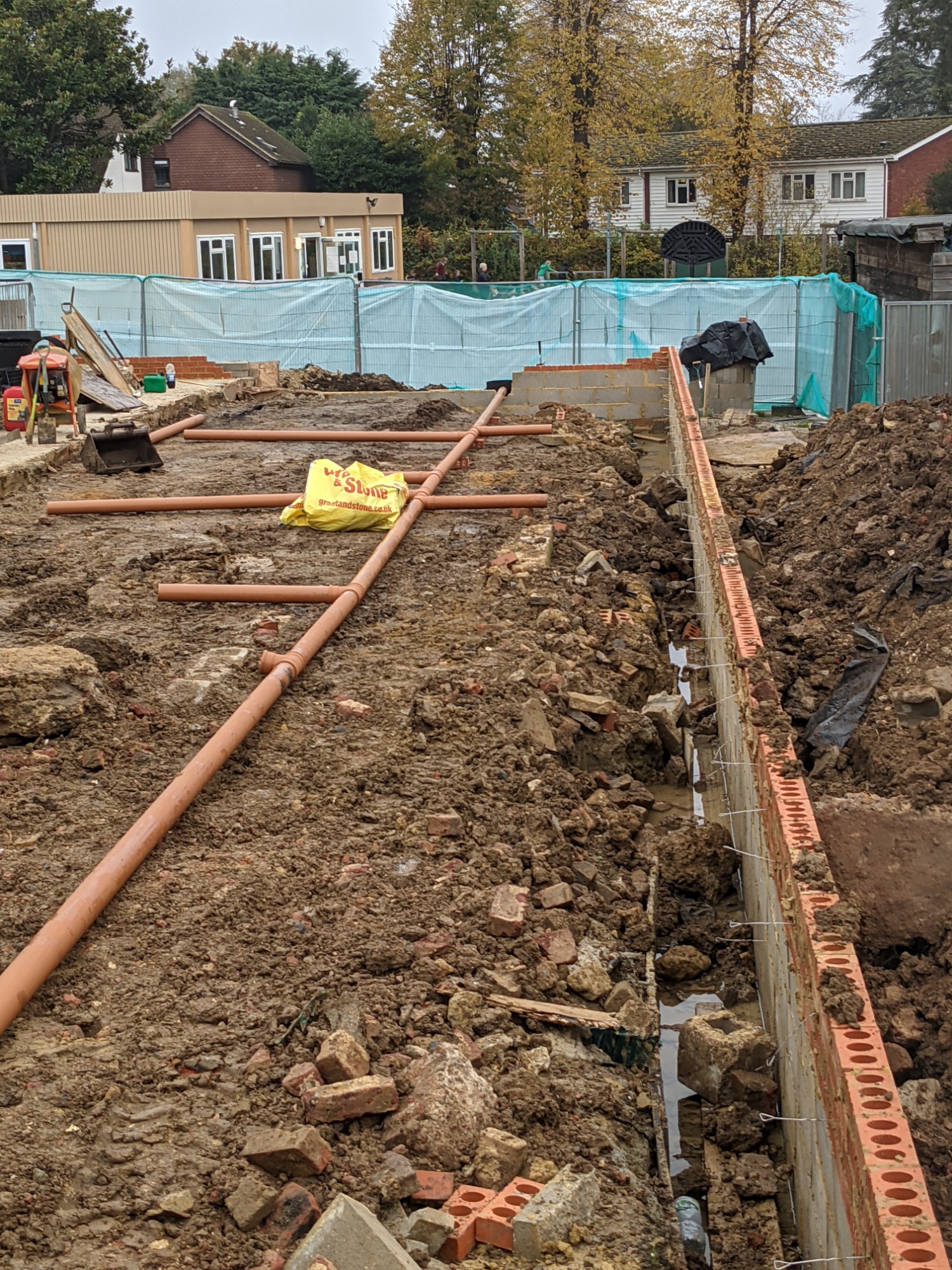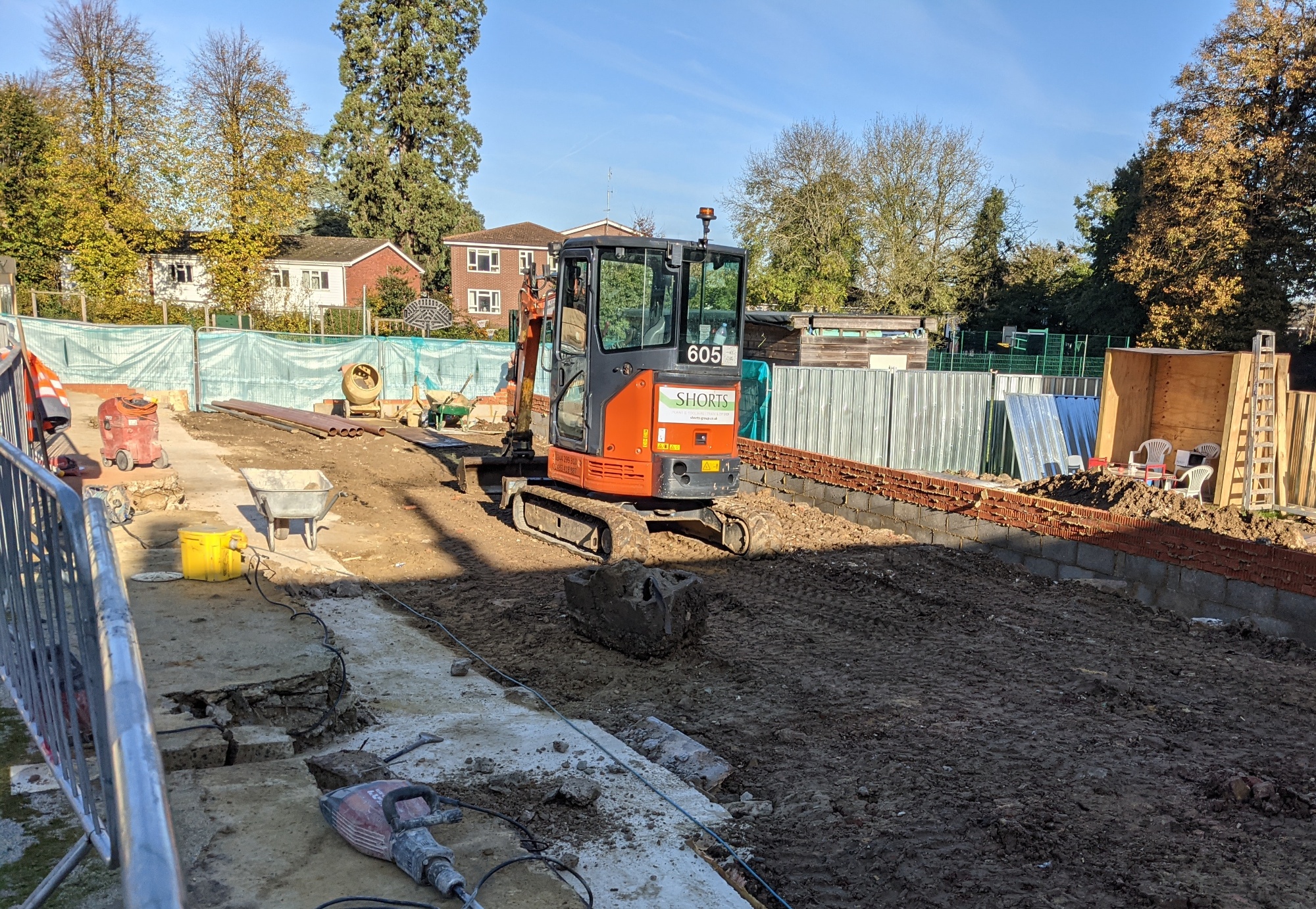 An all year round swimming pool in Claygate
Claygate Primary School Parents Association (CPSPA) have exciting plans to build a new swimming pool building for year round use by our whole community. Our aim is that the new facilities are truly a part of the community and open to all.
We have now raised £360,000.00 of our £580,000 target with significant contributions from Claygate Parish Council and Elmbridge Borough Council.
We now need help raising the last £250,000 required to make this project a reality. To give us the best chance to secure £250k funding from Surrey County Council please spend just 2 minutes to share your support for our application – Share Your Views On Your Fund Surrey Project Proposals – Commonplace. We need as much support as possible to be awarded the available funding which will enable us to deliver this wonderful facility in full to our community.
Our donation page is also still open and any contributions are always very much appreciated.
Fundraiser by Claygate Primary School Community Swimming Pool : Claygate Community Swimming Pool (gofundme.com)
Your Fund Surrey
Surrey County Council is giving local communities up to £100m to spend on projects that will improve their local area. We would like to secure funding for the Claygate Community Pool.
This is where we need your help in supporting the project. The more votes we get, the greater the chance we have of securing funding.
It is very quick and easy to vote. Just click below, Search for the Claygate Community Pool and Agree' with the project.
Why our pool matters
CPSPA was founded in the 1970s to fundraise for the existing open air swimming pool at the school that so many children have enjoyed and benefited from.
The pool was hand dug by parents and has been maintained since by the PA. It has been a long term aspiration of the school, Claygate Parish Council and many in the local community that the pool can be opened to the local community but without a roof, changing rooms and showers such opportunities have been limited, even during summer months.
Our Vision
A high quality independent building.
A building which uses the existing space dedicated to the swimming pool with no encroachment on the school field and playground.
A design in keeping with the surrounding school buildings.
A roof structure with potential to harness solar energy.
A design that maximises natural daylight.
A sustainable and well insulated facility.
Dedicated fully accessible route to the building.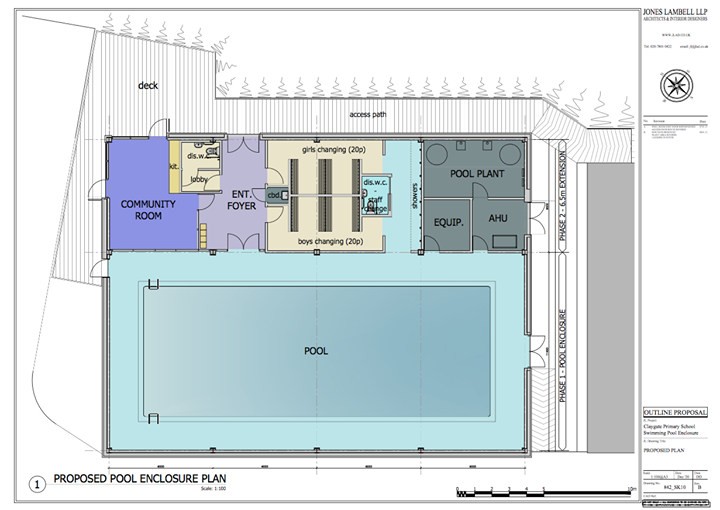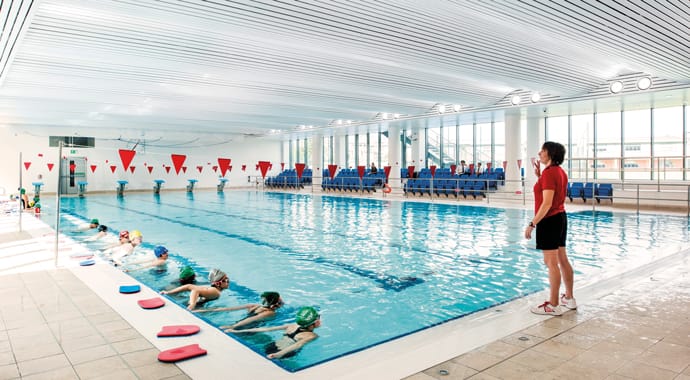 How will this enhance our community?
A long life, high quality and sustainable, purpose-built swimming pool building.
Year round swimming for all pupils, local residents and groups.
Modern changing facilities and showers
Additional community room, with kitchen, to be used in association with the swimming pool or independently.
Income stream to Claygate Primary School.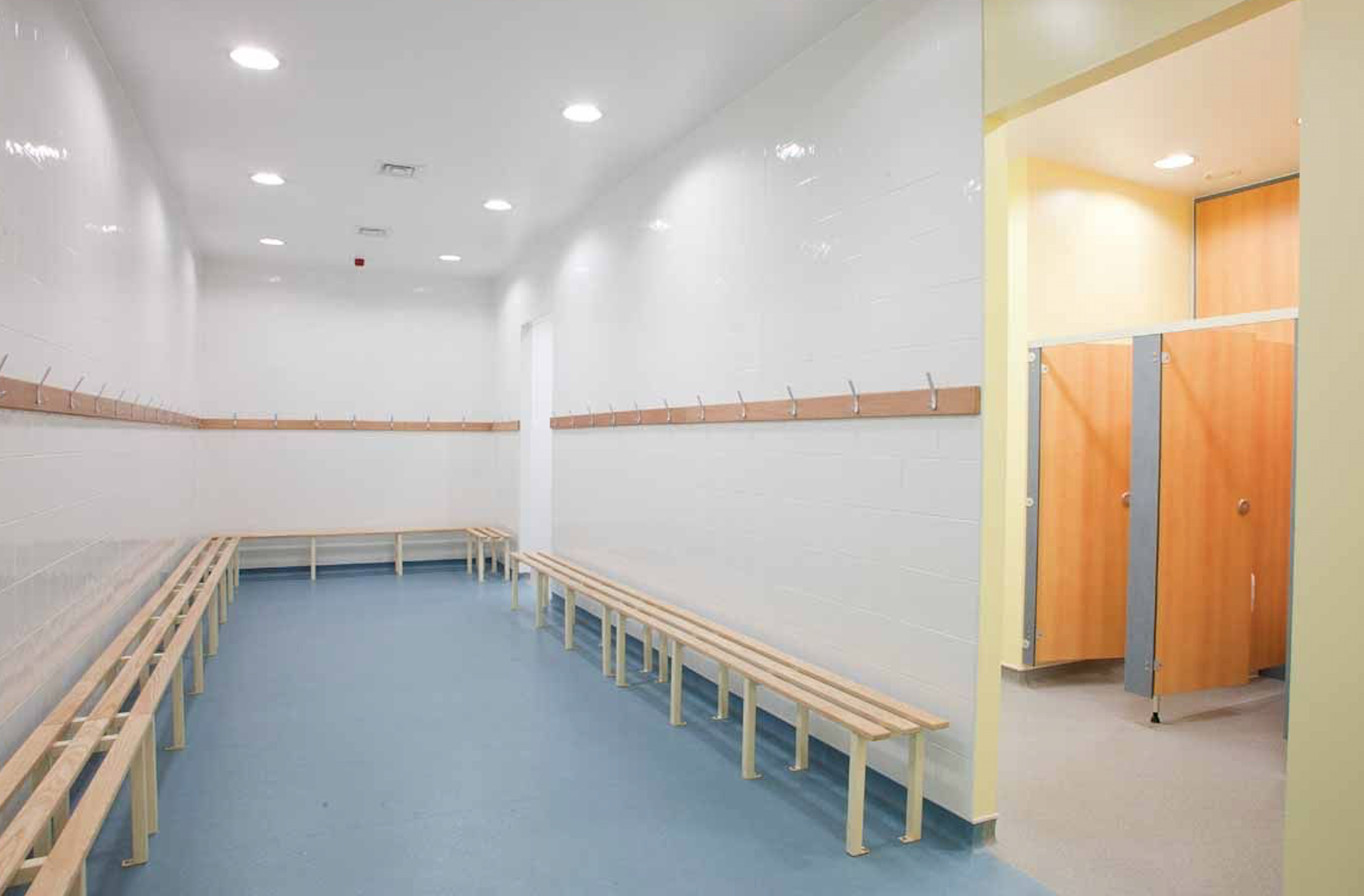 Get involved in CPSPA fundraising!
Fancy a challenge? Want to put your friends, kids or yourself to the test and be sponsored for it! We don't mind if you swim, knit or run!
Does your business or your employer match Fund?
Can you provide us with donations and discounts of building supplies?
All financial contributions are most welcome
Can you sponsor part of our project?
We have had fantastic support so far
Claygate Parish Council, Elmbridge Borough Council, Surrey County Council, Rowan School, Local Groups including Scouts, Brownies. Input and advice from numerous swim schools and experienced teachers, local residents and parents.
For further information, questions or to get involved with making this project a reality please contact the CPS Team – CPSCommunityPool@gmail.com